Hiking in Slovenia » Slovene Istria » Lačna » Lačna from Gračišče

A leisurely walk from Gračišče (a village in Slovenian Istria next to the main road toward Buzet) to Lačna is an ideal short family hike that you could easily extend into a much longer experience, depending on how enthusiastic your kids are.
At a Glance
Altitude

451 m

Average time

1.5 h

Elevation gain

150 m

Coordinates

Start: 45.502955, 13.876214
Peak: 45.504969,13.885283

Notes
There is a decent parking lot at the edge of the village (next to the school and kindergarten)
Walk toward the church of St. Nicholas until you hit the first red signs or waymarks.
Turn left, and follow a narrow road veering slightly toward the right until you reach a wooden sign pointing onto a narrow footpath going into the forest.
After a short ascent, you'll reach the first vista point. You might want to enjoy the view before proceeding toward the main ridge, where the footpath ends at a dirt trail.
Turn right. After a few hundred meters, turn left to reach the peak with a small tower. You might want to climb the tower to enjoy the view of Slavnik and the surrounding hills.
After a short break, you might decide to return to Gračišče, or you could go for a longer hike toward Kum (the views are well worth it).
Photo Gallery
Map of the Route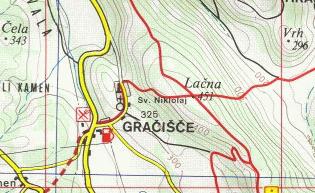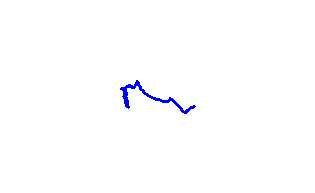 The map shows the path we took as recorded by the GPS receiver. Never trust a GPS track wholeheartedly; rely on your senses and maps.